La presentación de nuevas camisetas y equipaciones siempre genera un atractivo especial y este miércoles los fans recibieron un nuevo. Y es que la NBA presentó en sociedad las ediciones "Nike NBA Earned Edition" para la temporada 2020-2021, modelos exclusivos para los 16 equipos que lograron su lugar en los NBA Playoffs 2020.
Las Earned Edition son un reconocimiento para estos 16 conjuntos y cuentan con los nombres o logos de estos equipos engalanados en el frente de las camisetas, además de destacar elementos de diseño actuales de la organización, cobrando vida a través de colores mejorados. Los diseños en cada uniforme amplifican los elementos icónicos que están arraigados en la estructura de cada organización.
La temporada 2020-2021 está aquí, el NBA League Pass es tu lugar para disfrutar la acción, y ahora lo puedes hacer gratis por aquí. ✅ 7 días de prueba sin cargo ✅ Partidos en vivo y on demand ✅ La oportunidad de mirar todo en tu dispositivo favorito.
Como un guiño adicional a los equipos de los Playoffs y a su búsqueda de un campeonato de la NBA, 15 de los uniformes están adornados con insignias plateadas especiales, incluido un logo plateado de Nike en la parte superior izquierda del frente de los uniformes, una insignia plateada "Earned Edition" en la parte inferior derecha del frente, y un logotipo plateado de la NBA en la parte posterior, encima del nombre del jugador. Los pantalones también presentan detalles plateados de Nike.
All 16 NBA Earned Jerseys for this season revealed.

Celebrating the 16 teams that made the 2020 Playoffs. Each jersey features Silver accents - the Lakers' incorporates Trophy gold. 🏆 pic.twitter.com/6MnUQmNDi7

- Nick DePaula (@NickDePaula) March 10, 2021
El uniforme Earned Edition para Los Angeles Lakers, último campeón NBA, se destaca con estas marcas decoradas en oro para honrar el campeón de la NBA en Orlando, finalizando una temporada histórica de la liga.
Dallas Mavericks será el primer equipo en mostrar sus nuevos diseños en la cancha, cuando se enfrente a San Antonio Spurs en la madrugada del jueves. Los equipos restantes comenzarán a debutar con sus uniformes Earned Edition a finales de esta semana.
Los fans pueden visitar NBA LockerVision para obtener una vista previa de cuándo los equipos usarán sus uniformes Earned Edition durante el resto de la temporada.
Las camisetas Earned Edition estarán disponibles para su compra a partir del jueves 18 de marzo en NBAStore.com.
Los Angeles Lakers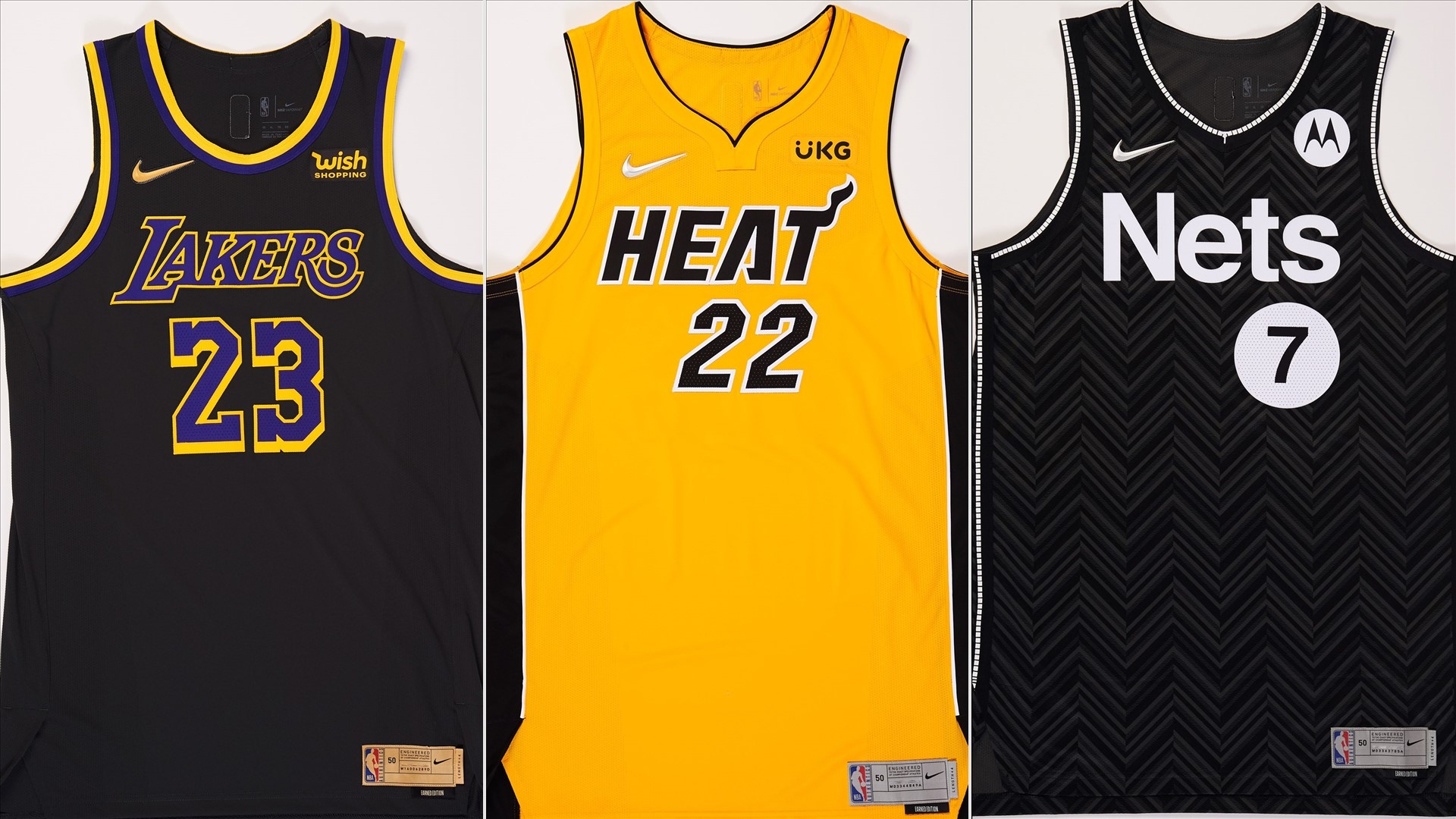 March 10, 2021
Miami Heat
Miami's bright "Earned Edition" unis celebrating their 2020 Finals appearance. pic.twitter.com/dNXwFUSnHm

- Nick DePaula (@NickDePaula) March 10, 2021
Denver Nuggets
March 10, 2021
Boston Celtics
New threads for the second half 🔥#EarnedNotGiven pic.twitter.com/0sYg6BNyaq

- Boston Celtics (@celtics) March 10, 2021
Toronto Raptors
Inspired by the OGs.

The old school, whose day one belief carried us to where we are today.

Earned Edition - Available for pre-sale Mar 18 at 10:00am pic.twitter.com/1Kl4t84H4r

- Toronto Raptors (@Raptors) March 10, 2021
Milwaukee Bucks
Amplified the iconic elements and brought to life through enhanced colors.

- Milwaukee Bucks (@Bucks) March 10, 2021
LA Clippers
The fine details. 🔬 pic.twitter.com/xHHxVXwqxI

- LA Clippers (@LAClippers) March 10, 2021
Portland Trail Blazers
Debuting tomorrow ⚪️⚫️ pic.twitter.com/UJzCtzYbC9

- Portland Trail Blazers (@trailblazers) March 10, 2021
Brooklyn Nets
In this borough, nothing's given.

A closer look at our Earned Edition fits 🔎 pic.twitter.com/oQHnJx6cnL

- Brooklyn Nets (@BrooklynNets) March 10, 2021
Orlando Magic
🔹Unveiling the 2020-21 @Nike Earned Edition uniforms - exclusively available to the teams who earned a spot in the 2020 NBA Playoffs 🔹 pic.twitter.com/afVVAnQ6rb

- Orlando Magic (@OrlandoMagic) March 10, 2021
Dallas Mavericks
A first look at the Mavs' "Earned Edition" uniform. pic.twitter.com/PH0vHWl1vc

- Nick DePaula (@NickDePaula) March 10, 2021
Utah Jazz
March 10, 2021
Indiana Pacers
March 10, 2021
Philadelphia 76ers
March 10, 2021
Houston Rockets
🧵 New threads debuting March 14th! pic.twitter.com/jZAwX4YYsQ

- Houston Rockets (@HoustonRockets) March 10, 2021
Oklahoma City Thunder
Debuting on court tomorrow. 🧵 pic.twitter.com/XDhqqmKg45

- OKC THUNDER (@okcthunder) March 10, 2021
Las opiniones aquí expresadas no reflejan necesariamente aquellas de la NBA o sus organizaciones.