En un domingo en el que todas las luces estaban puestas sobre Klay Thompson, Ja Morant pudo robarse parte de la atención. No solo por haber guiado a los Grizzlies a un triunfazo como visitantes ante los Lakers, sino sobre todo por haber dejado una de las acciones más espectaculares de la temporada... y de los últimos años: un tapón a dos manos sobre Avery Bradley, que si lo viéramos en un videojuego lo tildaríamos de poco realista.
JA MORANT 🤯

ONE OF THE MOST ATHLETIC BLOCKS YOU'LL EVER SEE. pic.twitter.com/mSBEajPDtK

- SportsCenter (@SportsCenter) January 10, 2022
La jugada no tardó en viralizarse y con lógico, fueron muchos los que tildaron la acción como uno de los mejores tapones que se hayan visto en la historia, como así también una muestra de explosión atlética pocas veces observada. Pero específicamente en lo que refiere a tapones, ¿con qué otras compite el de Morant como los más memorables de la competición? A continuación y para hacer honor al número de camiseta de Ja, repasamos otros 12 que deben entrar en cualquier discusión al respecto.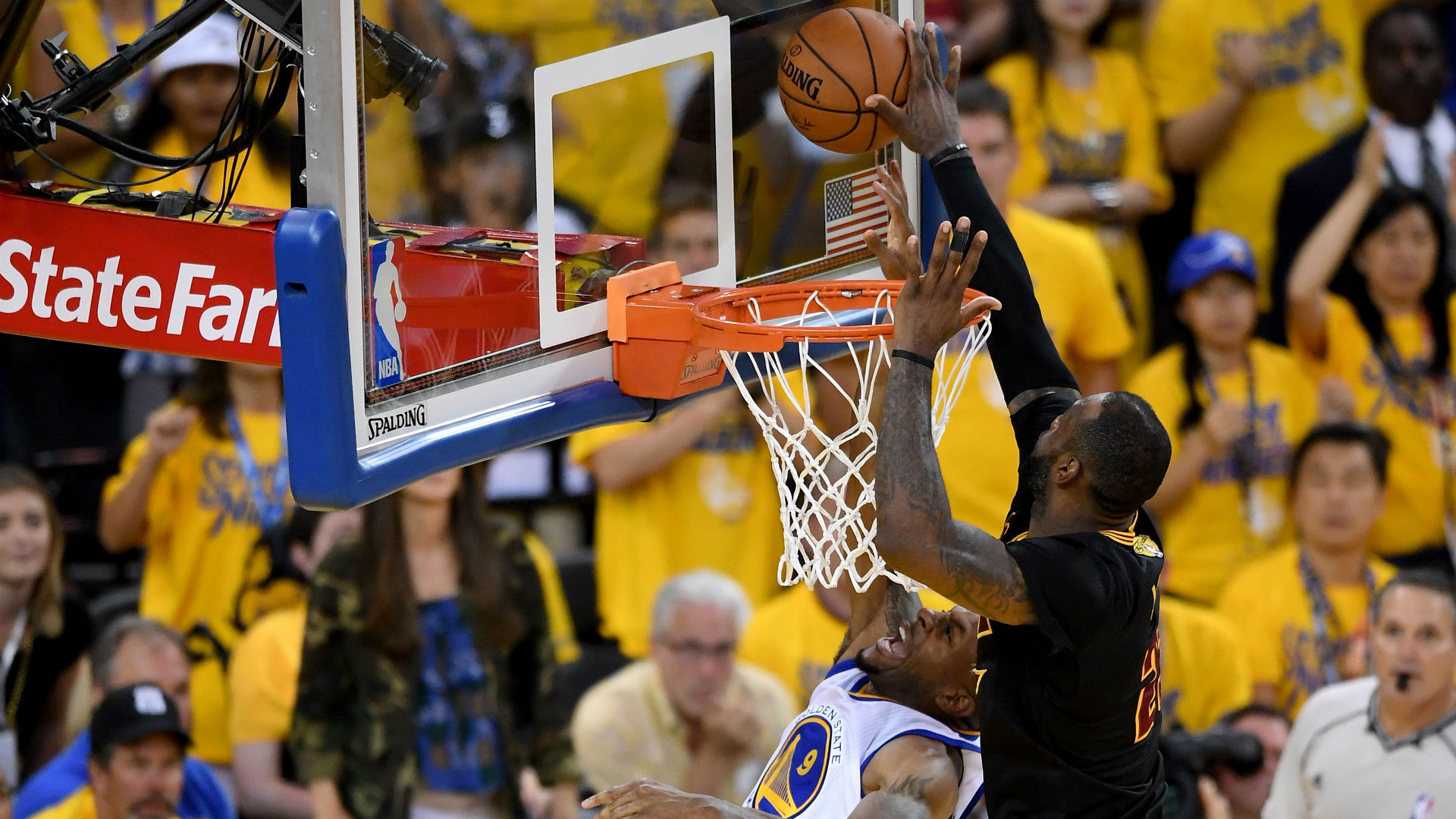 Empecemos por el que seguramente sea el primer tapón que se nos viene a la mente, a la hora de hablar de los más memorables que hayamos visto: el famoso blocked by James, en el que LeBron negó la conversión de Iguodala en los momentos decisivos de uno de los partidos más importantes en la historia de la NBA como fue aquel Game 7 entre Warriors y Cavs en las Finales 2016. A la inmortalidad.
On this date in 2016... "Blocked by James!" #NBABreakdown pic.twitter.com/K4fx74S2gV

- NBA History (@NBAHistory) June 19, 2019
Claro que hasta aquel tapón sobre Iguodala, cuando uno pensaba en grandes acciones defensivas de LeBron, seguramente la mente se iba de inmediato a las Finales 2013 y específicamente al Game 2, donde James negó en el aire el intento de volcada de Splitter. Un símbolo de otra serie que quedará en el recuerdo como una de las definiciones más espectaculares en la historia de la liga.
Let's throw it back to when LeBron DENIED Tiago Splitter in the NBA Finals 🖐🚫 pic.twitter.com/ASwrHXnlAB

- NBA on ESPN (@ESPNNBA) June 9, 2019
Si de tapones en Playoffs hablamos, qué decir del inolvidable gorro que Manu Ginóbili le puso a James Harden para asegurar la victoria en el Game 6 de los Playoffs 2017. Pura precisión del bahiense para evitar la infracción y conectar 100% con el balón, mientras La Barba intentaba el disparo ganador.
TB to Manu Ginobili's crazy game sealing block on James Harden 💯 pic.twitter.com/jnC0b1LzIK

- Spurs Nation (@SpursNationCP) June 10, 2020
Claro que Harden pudo tomarse revancha algunos años después... no frente a Manu, pero sí en la definición de otra gran serie de Playoffs, como aquel Rockets-Thunder en la burbuja de Disney en 2020. Taponazo sobre Dort para sellar la victoria en un disputadísimo Game 7 y avanzar a la siguiente ronda. Más memorable por contexto que por la jugada en si, pero totalmente meritorio de entrar en la lista.
De todas maneras, si hablamos de tapones en la burbuja, el que sin dudas se gana todos los premios es el de Bam Adebayo sobre Jayson Tatum, para asegurar la victoria en el Game 1 de las Finales del Este. Rechazar un intento de volcada de un jugador con la potencia de Tatum no es nada fácil, pero encima hacerlo en el último segundo de un partido de Playoffs apretado... sencillamente extraordinario.
BAM BLOCK ON TATUM TO CLOSE OUT GAME 1 pic.twitter.com/9taVNrAXjT

- Bleacher Report (@BleacherReport) September 16, 2020
¿Tapones sobre intentos de volcadas en Playoffs? Imposible no poner sobre la mesa aquel de Roy Hibbert ante Carmelo Anthony, para que los Pacers eliminen a los Knicks por 4-2 en los Playoffs 2013. Aquel era un Hibbert en modo All-Star, promediando 17 puntos, 9,9 rebotes y 1,9 tapones en aquella postemporada. Duró poco.
"Hibbert, denies him at the rim!"

On this day in 2013, @Roy_Meets_World helped close out Game 6 with a block on Melo 🤚 pic.twitter.com/yWnJ3kZJRy

- Indiana Pacers (@Pacers) May 18, 2020
Igualmente, la acción defensiva de Hibbert no es la más espectacular de un Pacer en Playoffs. Ese honor se lo lleva sin dudas Tayshaun Prince y su chasedown sensacional ante Reggie Miller en el cierre del Game 2 de los Playoffs 2004. Un ícono del nivel defensivo de unos Pistons que un par de semanas después estarían levantando el trofeo de campeón.
(2004) Tayshaun Prince with the clutch chase down block on Reggie Miller! Timeless. pic.twitter.com/jPLIgGNhoY

- Timeless Sports (@timelesssports_) April 2, 2018
Tapones, Pistons... hay que mencionar a Ben Wallace, por supuesto. Y aunque hay mucho material para elegir, nos quedamos con esta enorme acción ante Shaquille O'Neal en Playoffs. Otros tapones tienen méritos mayormente atléticos, pero este es quizá el más espectacular en cuanto a fortaleza física. Frenar en el aire y dejar en el piso a un titán como Shaq no es para cualquiera.
Happy birthday to #Pistons legend Ben Wallace! How many players could do this to Shaq? pic.twitter.com/IaNfsY9REz

- Dime (@DimeUPROXX) September 10, 2018
¿Más de esos Pistons? Jason Maxiell y su memorable tapón a Tyson Chandler, quien se preparaba para terminar su enésimo alley-oop con Chris Paul. Una fija de cada ranking de este tipo.
¿Tapones a dos manos? Antes del de Morant, quizá ninguno más impactante que este de Kenneth Faried a Dion Waiters.
This Kenneth Faried block on Dion Waiters is still the best block I've ever seen pic.twitter.com/G36vhnGggg

- Jason Hirsch (@JasonHirsch16) May 28, 2021
¿Tapones de bases como Ja? Nate Robinson, de 1,75 de estatura, le dice no a Yao Ming y sus 2,29 metros.
When 5'9 @nate_robinson blocked 7'6 Yao Ming 🙅‍♂️#NBABlockWeek pic.twitter.com/ksttdSBnGG

- NBA on ESPN (@ESPNNBA) August 22, 2019
Por último y si bien todos los anteriores tapones repasados sucedieron en el nuevo milenio, tenemos que hacer justicia con una era de la liga recordada por sus grandes batallas defensivas. Hablamos de los años 90, que de la mano de LaPhonso Ellis nos dejó el que quizá sea el tapón más extraordinario de la historia... ya no tanto por contexto o momento del partido, sino como el de Morant, sencillamente por lo vistosa de la acción. A disfrutarlo.
After a couple days of reflection: we should probably apologize to LaPhonso Ellis for overlooking this in the Greatest Block of All Time discussion. pic.twitter.com/u2w76XuVfB

- Pablo S. Torre (@PabloTorre) September 18, 2020
Las opiniones aquí expresadas no reflejan necesariamente aquellas de la NBA o sus organizaciones.