Una noche para no olvidar a dos personas que nunca serán olvidadas. De eso se trató todo el evento que rodeó al partido entre Los Angeles Lakers y Portland Trail Blazers en el Staples Center, el estadio en el que Kobe Bryant realizó casi toda su carrera NBA, incluidos sus cinco títulos ganados.
Un homenaje muy especial para Kobe, para su hija Gianna y para los otros siete miembros de la comunidad de Los Angeles fallecidos el domingo pasado en un terrible accidente.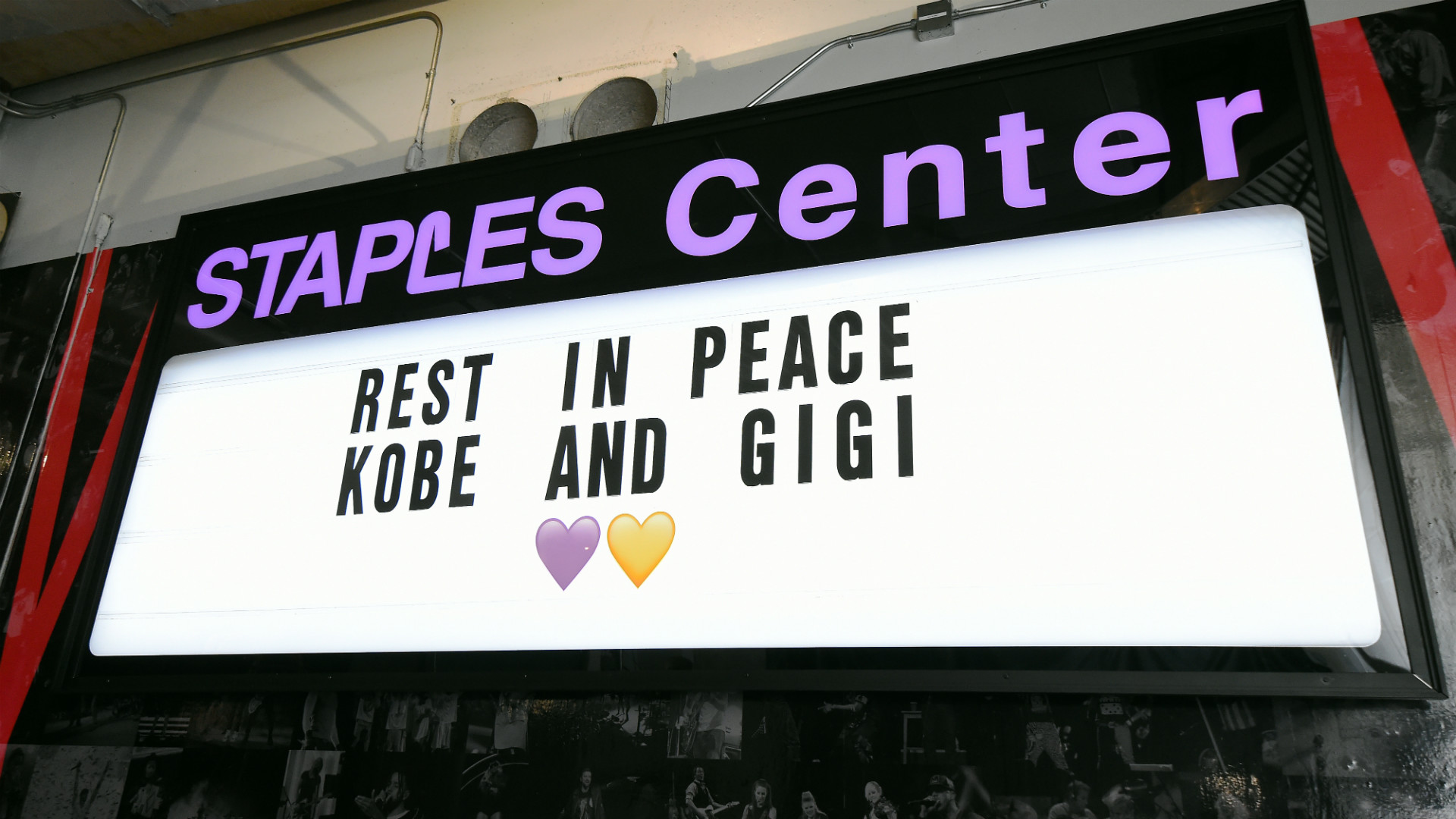 Desde la mañana de Los Angeles, el Staples Center estuvo preparado con camisetas de Kobe en cada una de sus 18.997 ubicaciones. De un lado del estadio ubicado en la calle Figueroa reposaban camisetas con el número 8 y del otro con el número 24, tomando como referencia a los dos dorsales utilizados por Bryant en su paso por Lakers, los dos que hoy cuelgan del techo junto a las camisetas de otras leyendas de la franquicia.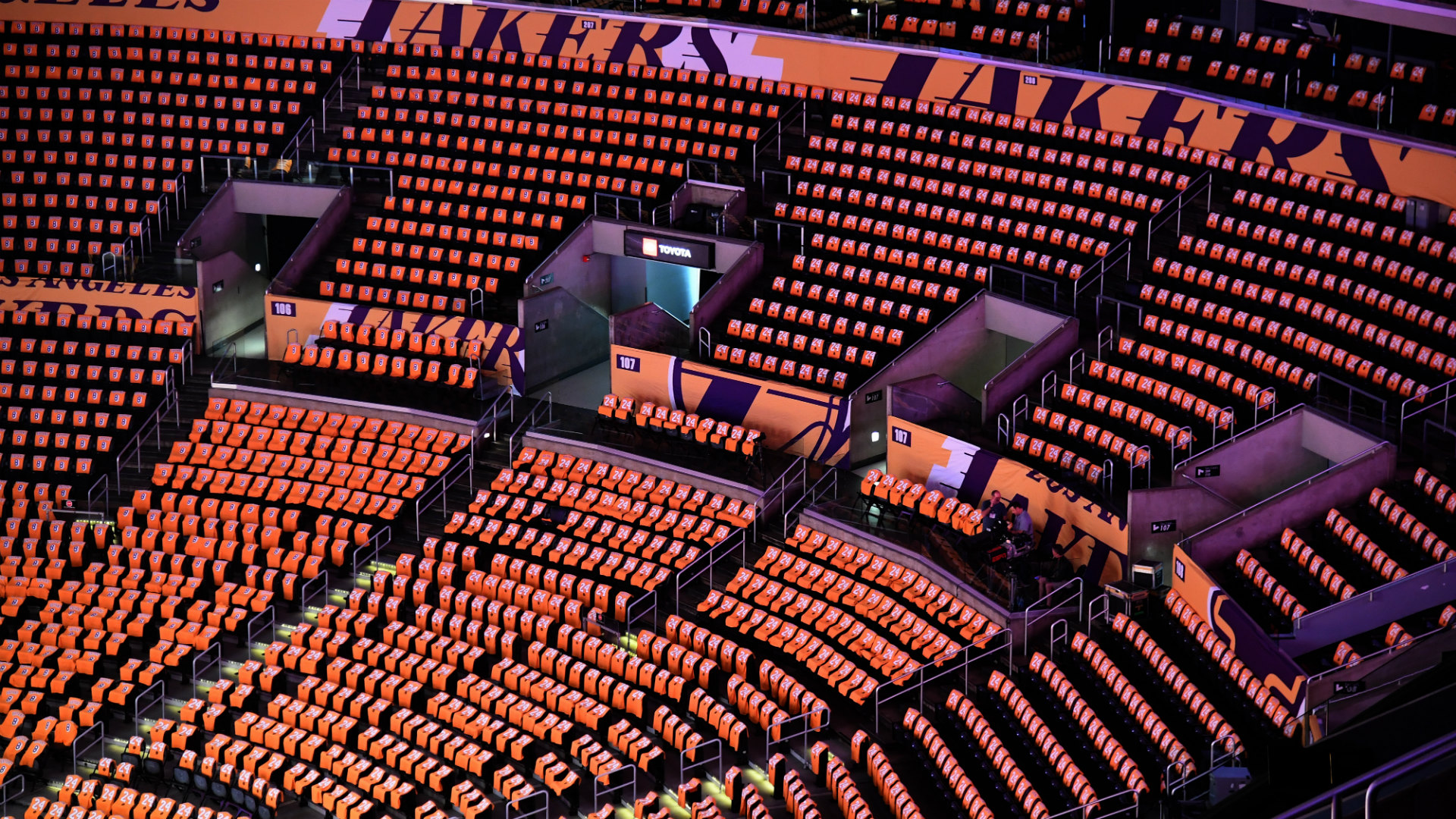 Kobe también estaba presente en el parqué sobre el que tantos triunfos obtuvo. Además de sus dos números, hay un logo con las iniciales KB.
The House That Kobe Built pic.twitter.com/1exfvaXnE8

- Los Angeles Lakers (@Lakers) January 31, 2020
Ese mismo logo estuvo en el pecho de cada jugador de Lakers, como podemos ver en la camiseta de Quinn Cook, que cambió su dorsal al #28 en respeto a Kobe y Gigi.
2 ♾ 8 pic.twitter.com/DeKsRqcTry

- Los Angeles Lakers (@Lakers) January 31, 2020
En las afueras del estadio, los fans de Los Angeles continuaban dejando sus ofrendas.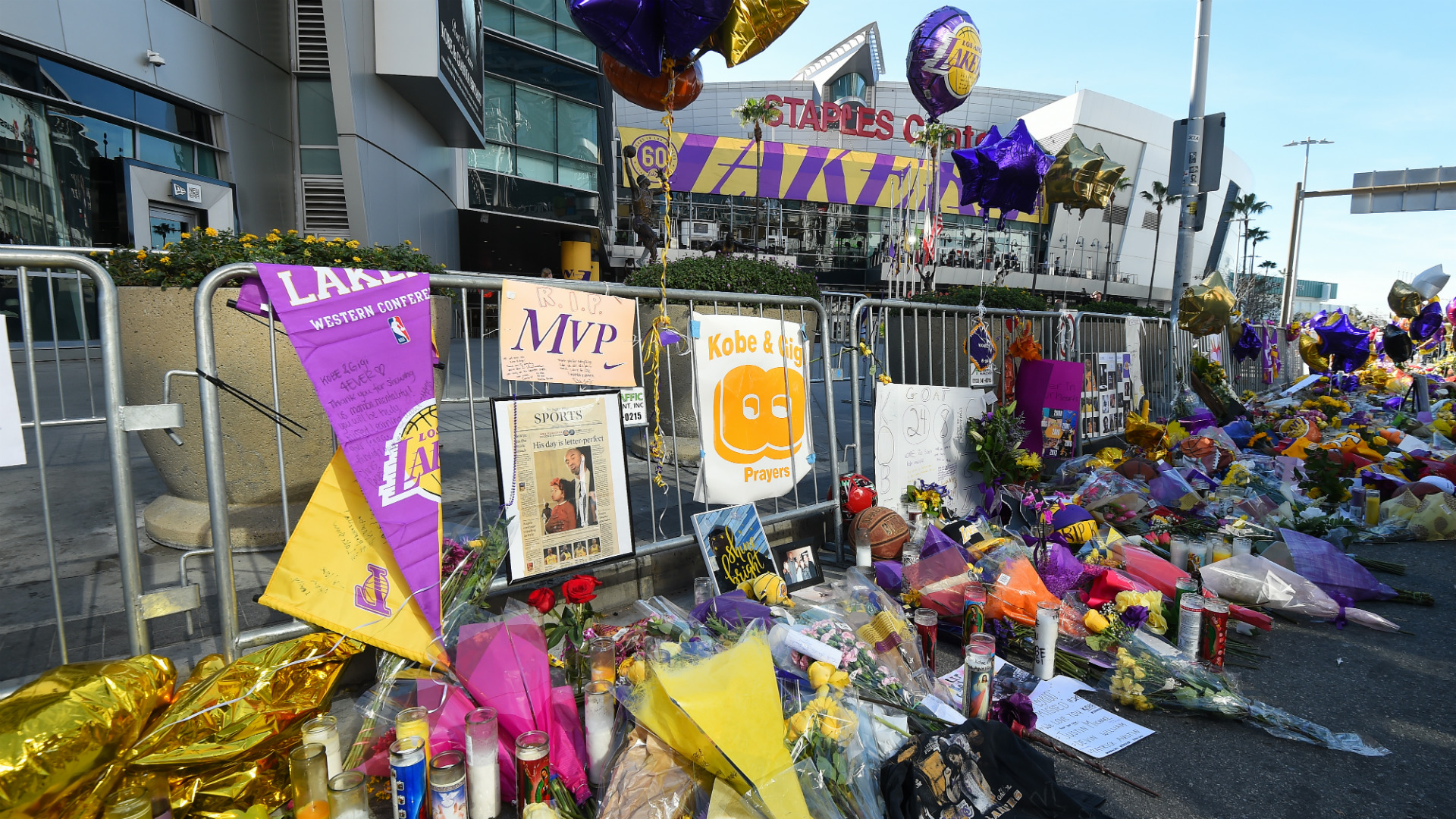 Su locker pic.twitter.com/LjqYS9ayfm

- Los Lakers (@LosLakers) February 1, 2020
Dos asientos del courtside quedaron liberados, aquellos lugares en los que Kobe y Gigi asistieron a los partidos de Lakers frente a Atlanta y Dallas en esta temporada.
#GirlDad pic.twitter.com/vAdwfoKcJh

- Los Angeles Lakers (@Lakers) February 1, 2020
El nombre de las nueve víctimas, en las pantallas digitales del Staples.
The names of the nine victims of the helicopter crash are scrolling around the digital banner at Staples. pic.twitter.com/tAlN1L7dr5

- Tania Ganguli (@taniaganguli) February 1, 2020
Dwight Howard, Quinn Cook y JaVale McGee llegaron al estadio con ropa que recuerda a Kobe y Gianna.
Dwight Howard, Quinn Cook and JaVale McGee all arrived at Staples Center wearing something to honor Kobe and Gianna. pic.twitter.com/DX0E6ppd0f

- NBA on ESPN (@ESPNNBA) February 1, 2020
Los jugadores de los Lakers salieron al precalentamiento vistiendo camisetas con los números de Bryant.
LeBron James & the Lakers take the Staples Center court in Kobe Bryant jerseys to a loud ovation pic.twitter.com/3lQ8kxuxcf

- Ben Golliver (@BenGolliver) February 1, 2020
El múltiple premiado artista Usher interpretó la canción Amazing Grace.
February 1, 2020
El momento más bello y fuerte de la noche: el emotivo video recordando a Kobe Bryant, con Hallelujah interpretado por un violinista.
February 1, 2020
Boyz II Men y una espectacular y sentida interpretación del himno de Estados Unidos.
Boyz II Men sings the national anthem during the Lakers' pregame ceremony. pic.twitter.com/yvnwZhyd53

- ESPN (@espn) February 1, 2020
El reloj marca los 24.2 segundos de silencio, con el 24 de Kobe y el 2 de Gianna.
24 seconds of silence for Kobe. pic.twitter.com/U3dr4mWJ8M

- NBA on ESPN (@ESPNNBA) February 1, 2020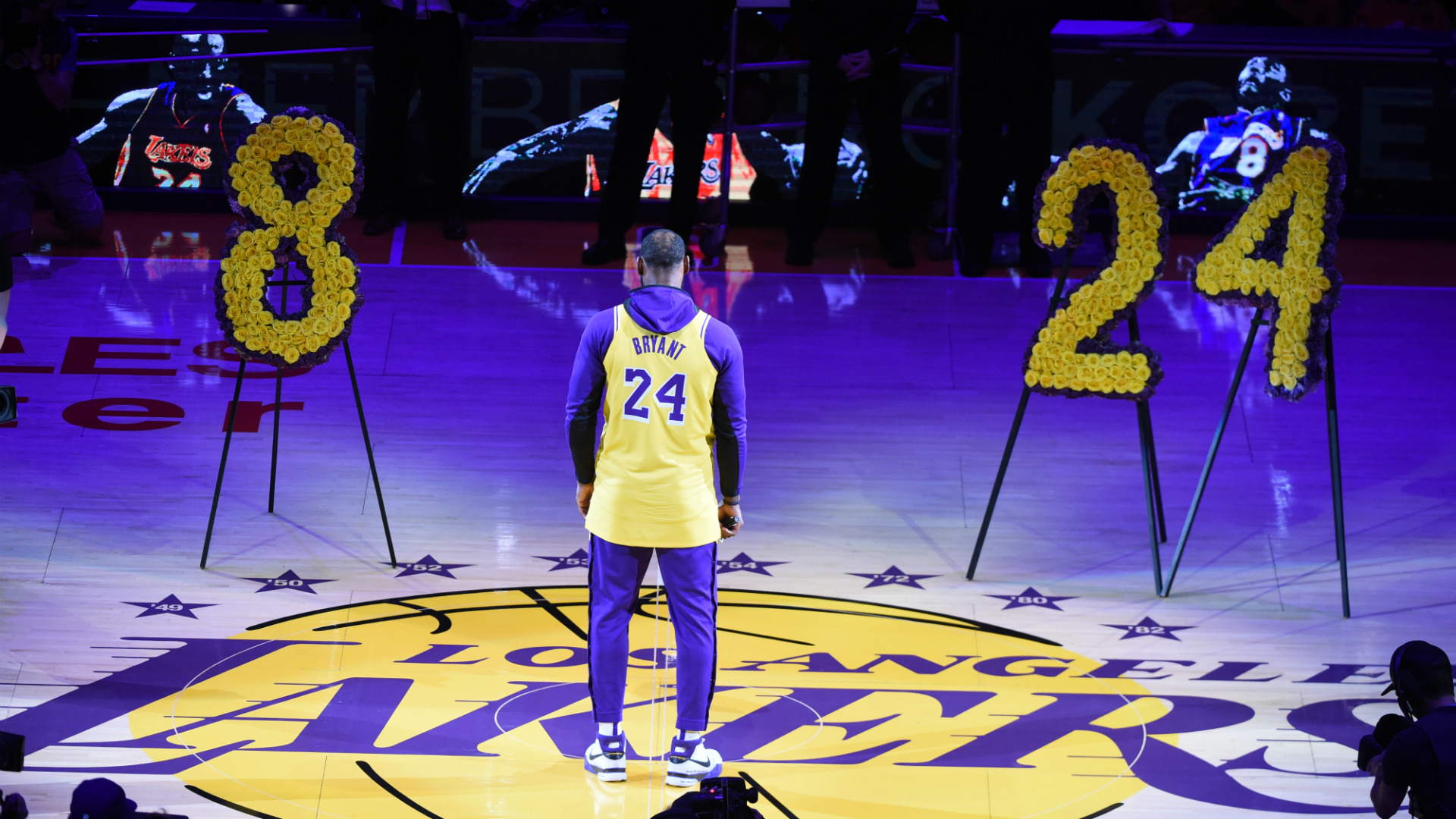 Cada jugador titular de los Lakers fue presentado con la clásica introducción de Kobe Bryant.
"Number 24, 6'6, 20th campaign from Lower Merion High School..." pic.twitter.com/H314wWufA2

- Los Angeles Lakers (@Lakers) February 1, 2020
Los 24 segundos de Lakers por el #24, los 8 segundos de Trail Blazers por el #8.
24. 8.
Thank you, @trailblazers. pic.twitter.com/MrO6IQ0gt4

- Los Angeles Lakers (@Lakers) February 1, 2020
El discurso de LeBron James. "Sé que en algún punto tendremos un funeral para Kobe, pero veo esto como una celebración. Esto es una celebración de 20 años de sangre, sudor, lágrimas, tener el cuerpo destrozado, de levantarse, de estar abajo, de todo, de horas incontables, de la determinación de lo grande que podía ser. Esta noche celebramos al chico que llegó con 18 años de edad, que se retiró a los 38 y, probablemente, de volverse el mejor padre que vimos en los últimos 3 años".
"Tonight we celebrate the kid that came here at 18, retired at 38 and became probably the best dad we've seen over the last three years." pic.twitter.com/0sS7e91cuz

- Los Angeles Lakers (@Lakers) February 1, 2020
"El hecho de que esté aquí ahora, significa mucho para mí, quiero continuar con mis compañeros su legado, no solo por este año, sino el tiempo que sigamos jugando baloncesto que tanto amamos, porque eso es lo que Kobe querría. En las palabras de Kobe Bryant, 'Mamba Out', pero en nuestras palabras, 'No olvidado'. Sigue vivo, hermano".
En el entretiempo del partido, el cantante Charlie Puth y el rapero Wiz Khalifa le dedicaron a Kobe su famosa canción "See You Again".
"Rest In Peace to the late, great Kobe Bryant." pic.twitter.com/jmqQMVC2UO

- Los Angeles Lakers (@Lakers) February 1, 2020
Las opiniones aquí expresadas no reflejan necesariamente aquellas de la NBA o sus organizaciones.