El duelo entre el Team Blue y White del equipo de Estados Unidos nos permitió ver por primera vez a aquellos jugadores que quieren hacerse con un puesto en el conjunto que acuda a la Copa Mundial FIBA 2019 en China.
Jugadores como Jayson Tatum (17 puntos), Kemba Walker (14 puntos) y De'Aaron Fox (12 puntos) fueron los que más destacaron para el equipo que vestía de azul, compuesto por aquellos que más papeletas tienen para ir con USA al Mundial.
Team Blue 97 - 78 Team White
El Team Blue cierra el encuentro con una victoria por 19 puntos a pesar de un empujón tardío del Team White. Jayson Tatum lideró a entre los anotadores con 17 puntos en 6 de 8 (75%) tiros añadiendo tres triples. Kemba Walker terminó con 14 puntos, mientras que De'Aaron Fox hizo un poco de todo para ayudar a su equipo a obtener la victoria.
Para el Team White, Derrick White y John Collins terminaron con 12 puntos cada uno, pero no pudieron hacer frente al 3 de26 (11.5%) desde la línea de tres.
Jayson Tatum and the Blue squad get the win in tonight's #USABMNT exhibition! 🇺🇸 pic.twitter.com/TQiN0G5Ol5

- NBA TV (@NBATV) August 10, 2019
.@kylekuzma takes flight! 🔨🇺🇸#USABMNT | @FIBA pic.twitter.com/v7w6id8Xin

- NBA TV (@NBATV) August 10, 2019
Dos cambios en la preselección del Team USA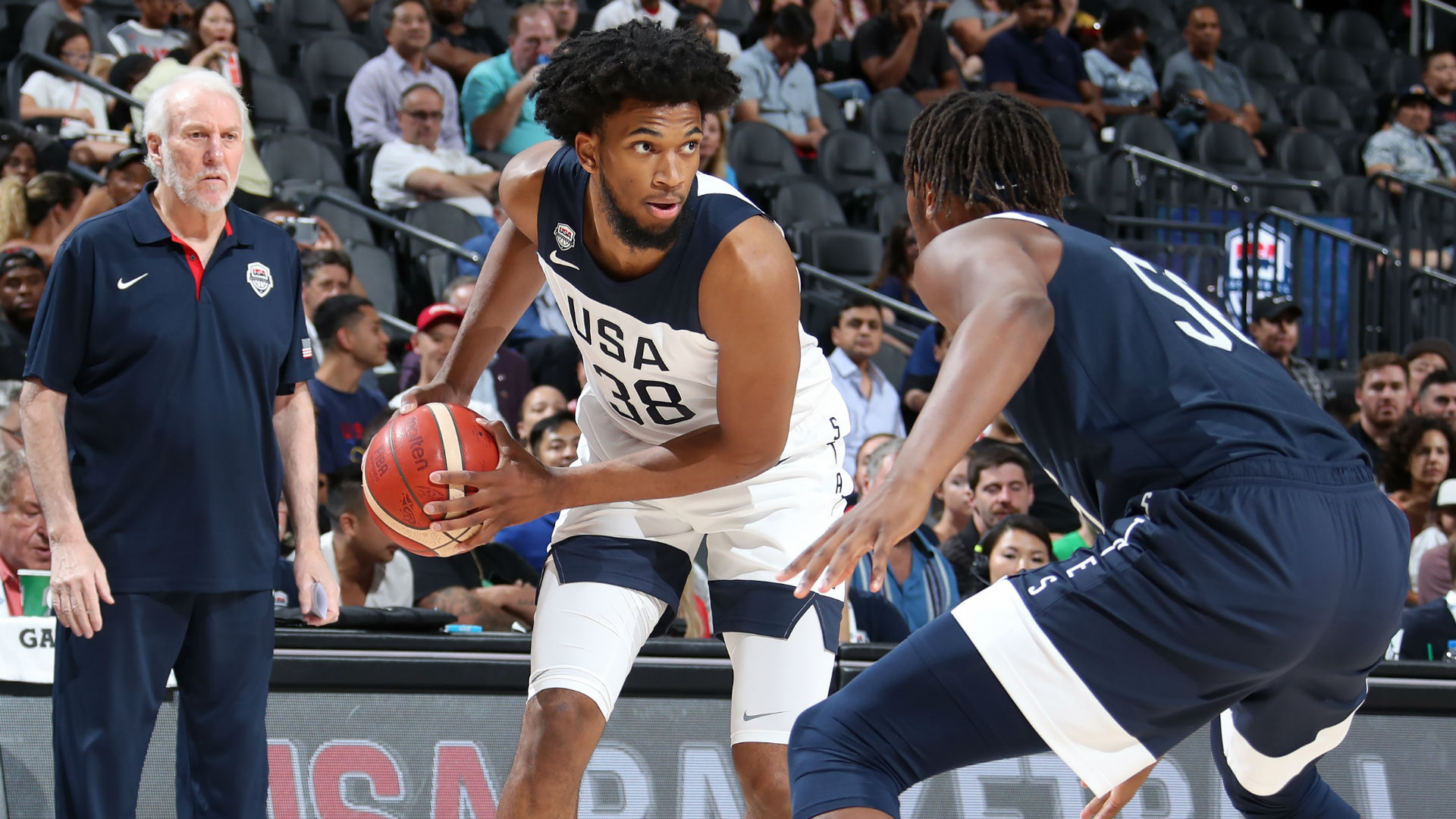 Al finalizar el partido, Jerry Colangelo, Director de USA Basketball, confirmó que Bam Adebayo (Miami Heat) y Thaddeus Young (Chicago Bulls) no continuarán en la siguiente etapa de trabajos del conjunto norteamericano. Claro que la lista se mantendrá en 17 nombres, tras la promoción de dos de los jóvenes más destacados del Select Team: Marvin Bagley III (ala pivote de Sacramento Kings) y Derrick White (base de San Antonio Spurs).
"Sumamos a dos jóvenes del Select Team, y seremos pacientes con el resto del equipo porque tenemos muchísimo tiempo, dos semanas para decidir quiénes son los 12 finales. Hay cosas que nos gustan de cada uno de los jugadores. ¿Cómo llegaremos a los 12? No debemos decidir ahora, así que queremos darle a todos una chance real", señaló Colangelo.
La próxima etapa de trabajos del Team USA comenzará este martes 13 de agosto en Los Angeles, donde el equipo trabajará hasta el 15 para, un día después, enfrentarse contra España en el Honda Center de Anaheim.
La preselección de Estados Unidos
| Jugador | Posición | Equipo | Edad | Altura |
| --- | --- | --- | --- | --- |
| Kemba Walker | Base | Boston Celtics | 29 | 1,85 |
| Kyle Lowry | Base | Toronto Raptors | 33 | 1,85 |
| De'Aaron Fox | Base | Sacramento Kings | 21 | 1,90 |
| Derrick White | Base | San Antonio Spurs | 25 | 1,93 |
| Marcus Smart | Escolta/base | Boston Celtics | 25 | 1,93 |
| Donovan Mitchell | Escolta | Utah Jazz | 22 | 1,90 |
| Joe Harris | Escolta | Brooklyn Nets | 27 | 1,98 |
| Jaylen Brown | Escolta/alero | Boston Celtics | 22 | 2,01 |
| Khris Middleton | Alero | Milwaukee Bucks | 27 | 2,03 |
| Jayson Tatum | Alero/ala pivot | Boston Celtics | 21 | 2,03 |
| PJ Tucker | Alero/ala pivot | Houston Rockets | 34 | 1,98 |
| Harrison Barnes | Alero/ala pivot | Sacramento Kings | 27 | 2,03 |
| Kyle Kuzma | Ala pivot | Los Angeles Lakers | 24 | 2,06 |
| Marvin Bagley III | Ala pivot | Sacramento Kings | 20 | 2,11 |
| Myles Turner | Pivot | Indiana Pacers | 23 | 2,11 |
| Brook Lopez | Pivot | Milwaukee Bucks | 31 | 2,13 |
| Mason Plumlee | Pivot | Denver Nuggets | 29 | 2,11 |