Se disputó la jornada NBA del martes 27 de abril, con seis partidos y la presencia de muchísimas estrellas: Giannis Antetokounmpo para Milwaukee Bucks, Damian Lillard para Portland Trail Blazers, Kevin Durant y Kyrie Irving en Brooklyn Nets, Kyle Lowry en Toronto Raptors, Karl-Anthony Towns en Minnesota Timberwolves, Luka Doncic para Dallas Mavericks y Stephen Curry para Golden State Warriors.
Entre todo eso Oklahoma City Thunder dio una sorpresa grande, logrando cortar su racha de 14 derrotas en fila con un triunfo por 119-115 ante Boston Celtics. Repasamos todo lo sucedido.
La temporada 2020-2021 está aquí, el NBA League Pass es tu lugar para mirar la acción, y ahora lo puedes hacer gratis por aquí. 7 días de prueba sin cargo. Partidos en vivo y on demand. La oportunidad de mirar todo en tu dispositivo favorito.
Boston Celtics 115 - Oklahoma City Thunder 119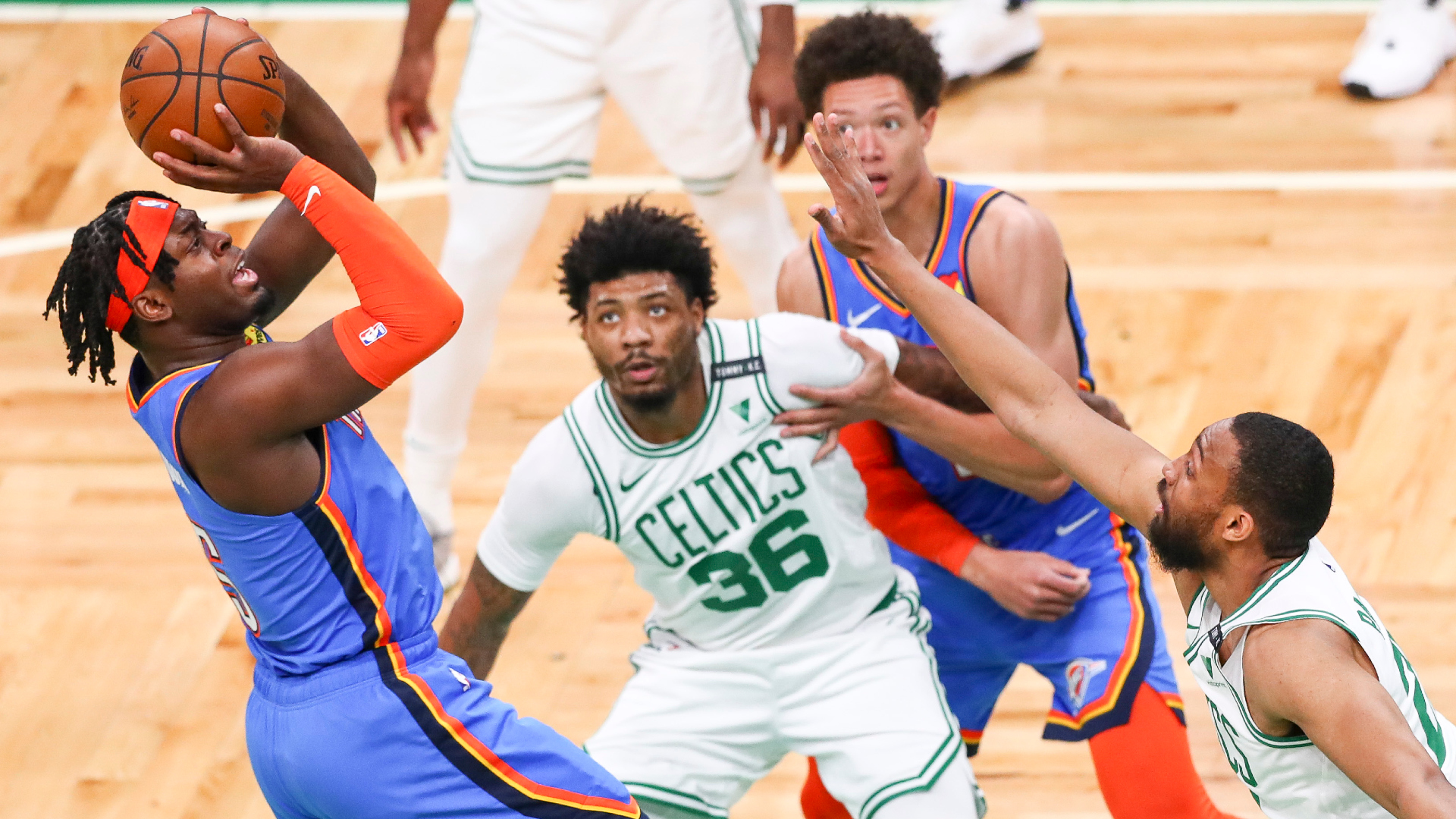 El Thunder llevaba 14 partidos sin ganar, pero llegó a Boston y festejó por primera vez en el mes de abril. Todavía sin el debut del argentino Gabriel Deck (esperado para el jueves), OKC anotó 41 puntos en el último cuarto y ganó con 24 tantos de Lu Dort, 21 puntos y 10 rebotes de Darius Bazley y 15 puntos de Isaiah Roby y de Ty Jerome. Boston, sin Jayson Tatum, Kemba Walker y Robert Williams, tiró de 39 puntos, 4 robos y 11 rebotes de Jaylen Brown y 28 puntos de Payton Pritchard en su cuarta derrota en los últimos cinco encuentros.
1st quarter buzzer beaten 🚨@roby_isaiah | #ThunderUp pic.twitter.com/dwpvLxdOtW

- OKC THUNDER (@okcthunder) April 27, 2021
.@paytonpritch3 out here gettin' buckets pic.twitter.com/mPPaOrjTeB

- Boston Celtics (@celtics) April 27, 2021
Charlotte Hornets 104 - Milwaukee Bucks 114
Los Bucks estuvieron a punto de ser barridos en Fase Regular por los Hornets, pero lo evitaron este martes con un gran trabajo en la primera mitad. Giannis Antetokounmpo quedó al borde del triple-doble (29 puntos, 12 rebotes y 8 asistencias), Brook Lopez encestó 22 puntos y Khris Middleton terminó con 17 puntos, 6 asistencias y 5 rebotes. Devonte' Graham fue el máximo anotador de Charlotte con 25 puntos y Miles Bridges terminó con 21 tantos, 10 rebotes y 6 asistencias en su tercer doble-doble en los últimos 5 partidos.
Things you can expect in everyday life:
1) The sun coming up ☀️
2)Traffic after work 🚗
3) @MilesBridges dunk ✈️#AllFly pic.twitter.com/fDmnsv0Ws3

- Charlotte Hornets (@hornets) April 27, 2021
Giannis in transition is a scary sight. pic.twitter.com/XQDqv6ixga

- Milwaukee Bucks (@Bucks) April 27, 2021
Indiana Pacers 112 - Portland Trail Blazers 133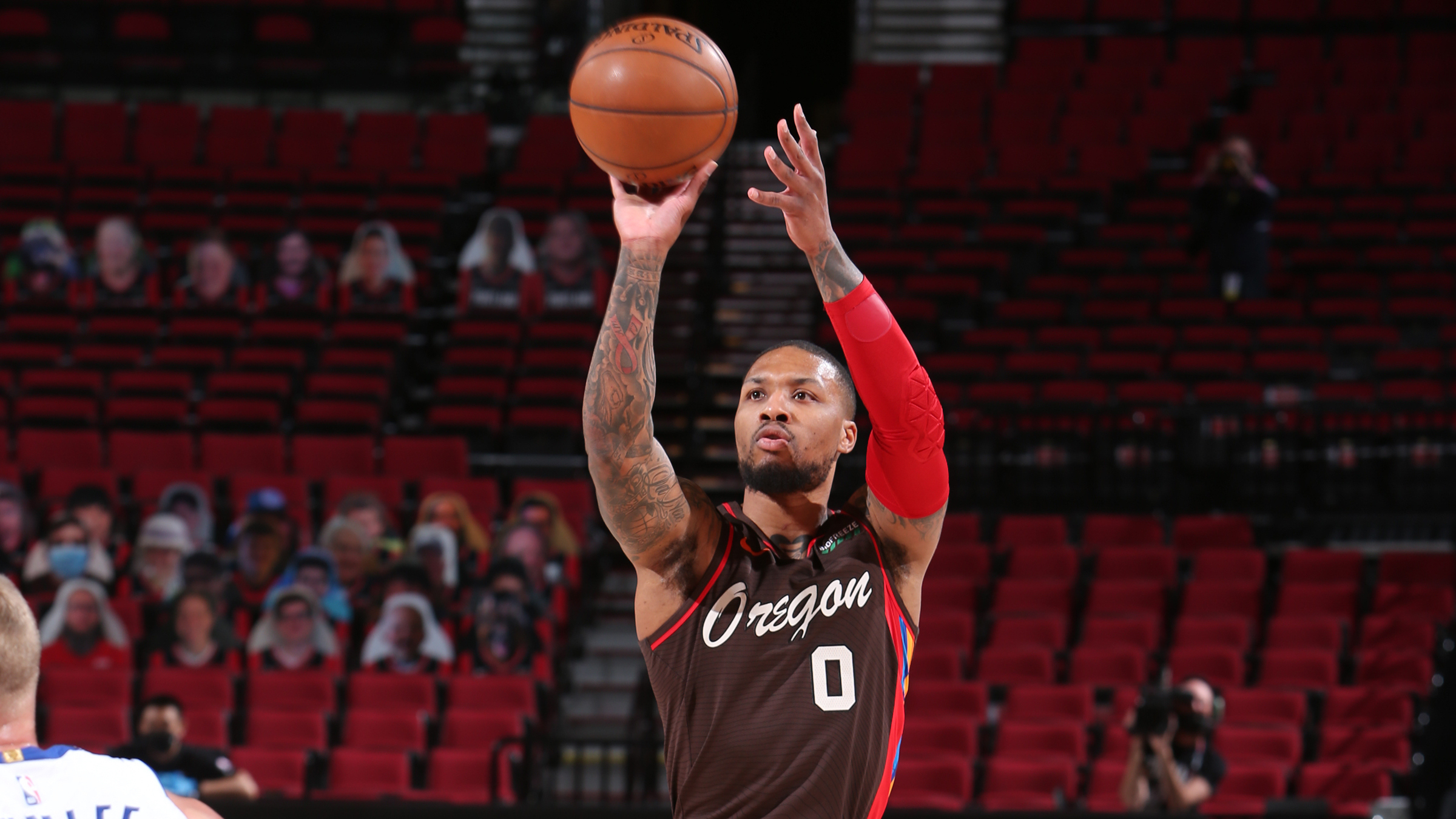 Portland reventó a triples a Indiana: 20-37 desde el perímetro con un tremendo 9-10 del joven Anfernee Simons, que fue el máximo anotador con 27 puntos mientras que Damian Lillard sumó 23 y CJ McCollum otros 20 tantos. Los Blazers cortaron su racha de cinco derrotas seguidas imponiéndose ante unos Pacers repletos de bajas que aguantaron en el inicio con 14 tantos de Malcolm Brogdon en el primer cuarto pero luego se quedaron sin potencia ofensiva a la vez que fueron un colador defensivo.
the net barely moved 🐜 🐜 🐜 pic.twitter.com/VuokkEfhW6

- Portland Trail Blazers (@trailblazers) April 27, 2021
🔥 14 points from the Prez in the first quarter 🔥 pic.twitter.com/A5fPyu3cc6

- Indiana Pacers (@Pacers) April 27, 2021
Toronto Raptors 103 - Brooklyn Nets 116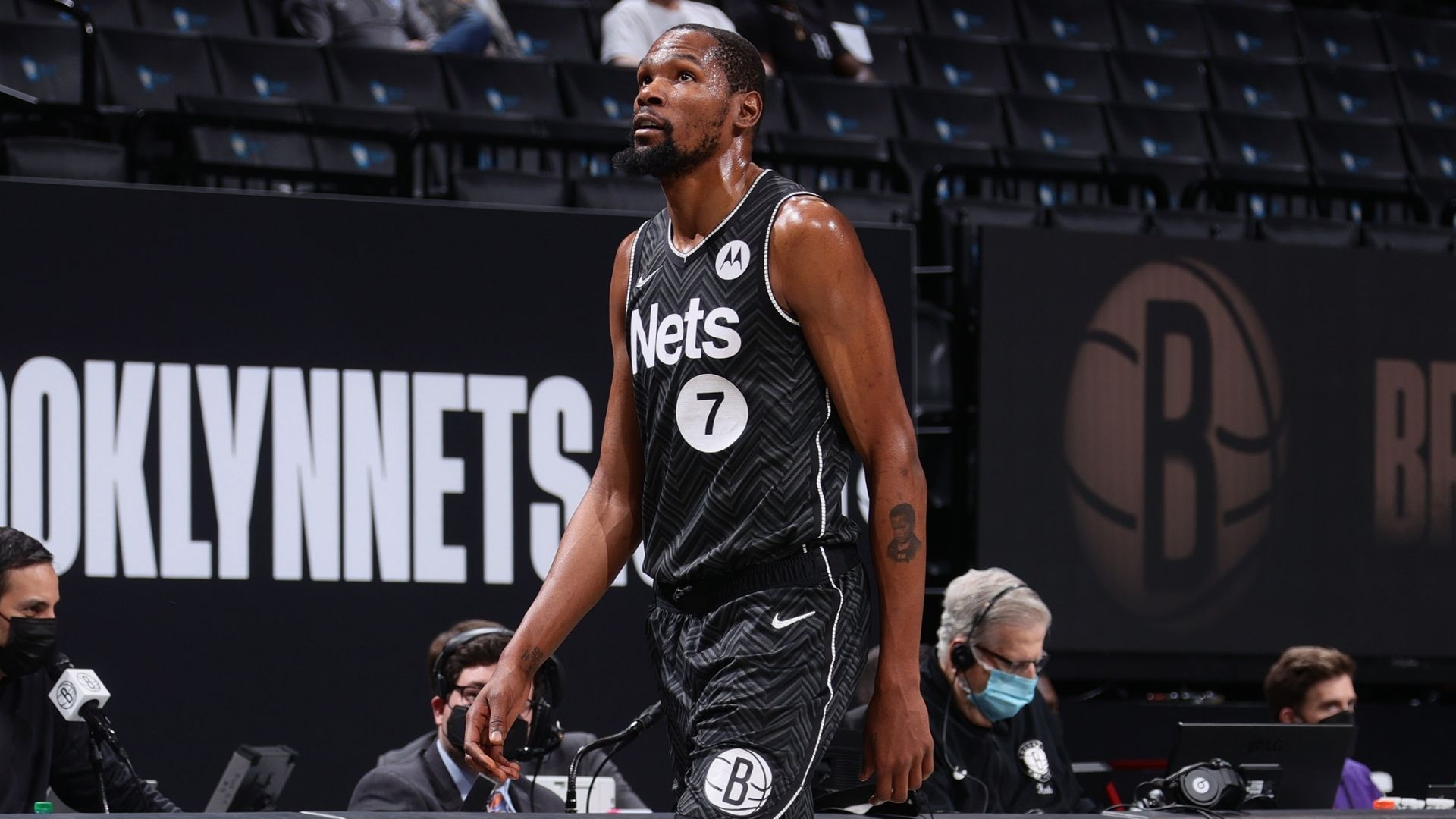 Los Nets explotaron en el último cuarto con 36 puntos, de los cuáles siete fueron de Kevin Durant, y ganaron en Tampa Bay ante los Raptors para escaparse en el primer puesto de la Conferencia Este. Durant finalizó con 17 tantos y 10 rebotes, Jeff Green fue el máximo anotador con 22 puntos, Kyrie Irving lanzó 3-13 de campo para quedar en apenas 9 tantos y Blake Griffin se fue hasta 17 puntos como Durant, mientras que Mike James sumó 11 tantos, todos en el último cuarto. Kyle Lowry fue el máximo anotador del partido con 24 puntos mientras que OG Anunoby terminó con 21 puntos y 6 asistencias.
2+1 the hard way for @blakegriffin23 💪 pic.twitter.com/Ws8taDnz5l

- Brooklyn Nets (@BrooklynNets) April 28, 2021
The @Raptors work the 🏀 around on NBA League Pass! pic.twitter.com/UvR51c67uh

- NBA (@NBA) April 28, 2021
Houston Rockets 107 - Minnesota Timberwolves 114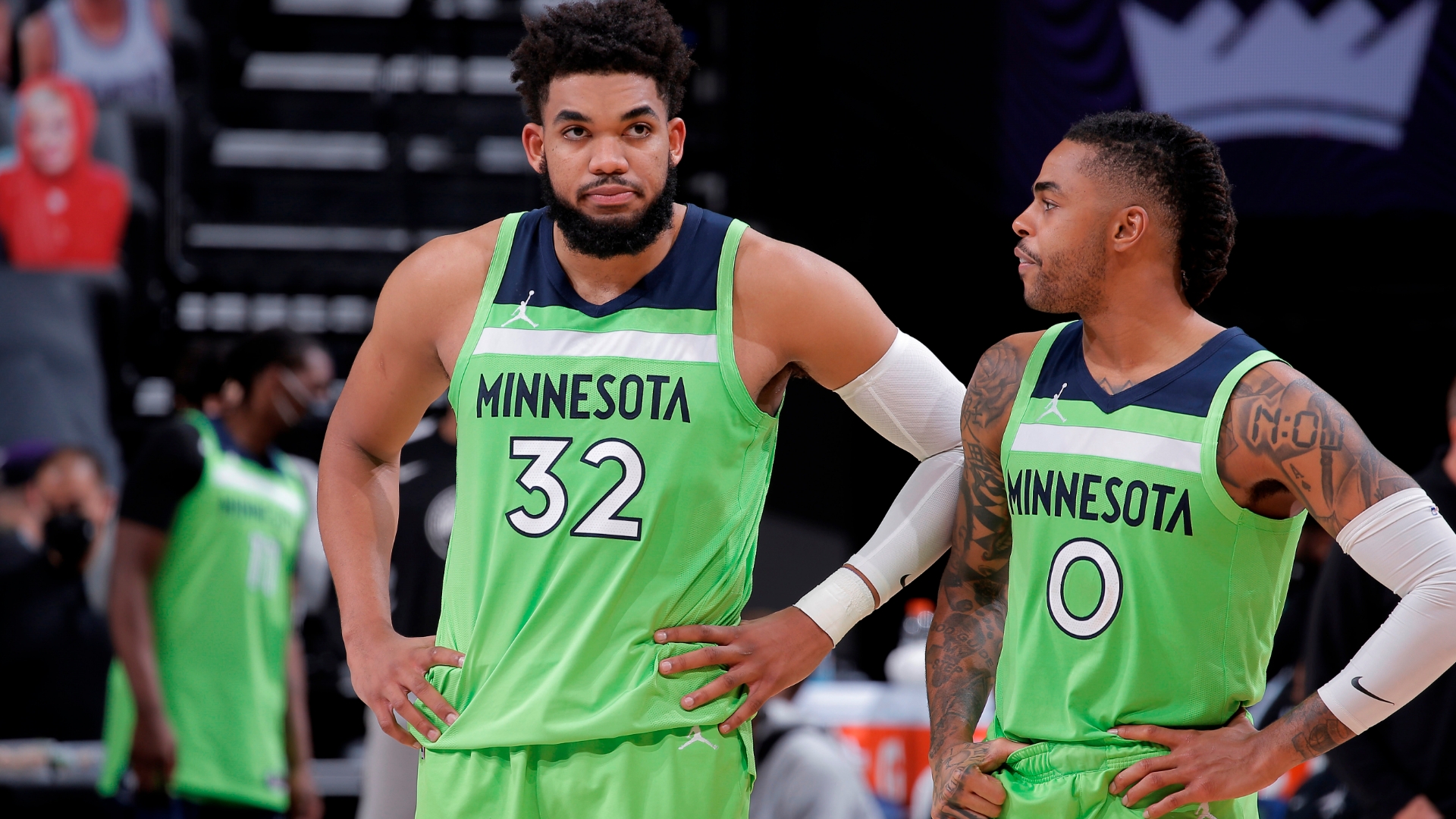 Por primera vez en la temporada Minnesota Timberwolves ganó tres partidos consecutivos: esta vez se impusieron por 114-107 sobre Houston Rockets con 31 puntos, 7 rebotes y 5 asistencias de Karl-Anthony Towns, 22 tantos de Juancho Hernangómez desde el banco, 3 puntos, 4 asistencias y 2 rebotes de Ricky Rubio y 19 tantos del rookie Anthony Edwards. Kelly Olynyk fue el máximo anotador de los Rockets con 28 puntos además de 9 rebotes, mientras que Christian Wood finalizó con 24 puntos, 18 rebotes y 5 asistencias.
Houston Homecoming for @JVando 🚀 pic.twitter.com/6kYvqOZyFD

- Minnesota Timberwolves (@Timberwolves) April 28, 2021
🚀🚀🚀🚀🚀 pic.twitter.com/kQzNmmzlj0

- Houston Rockets (@HoustonRockets) April 28, 2021
Golden State Warriors 103 - Dallas Mavericks 133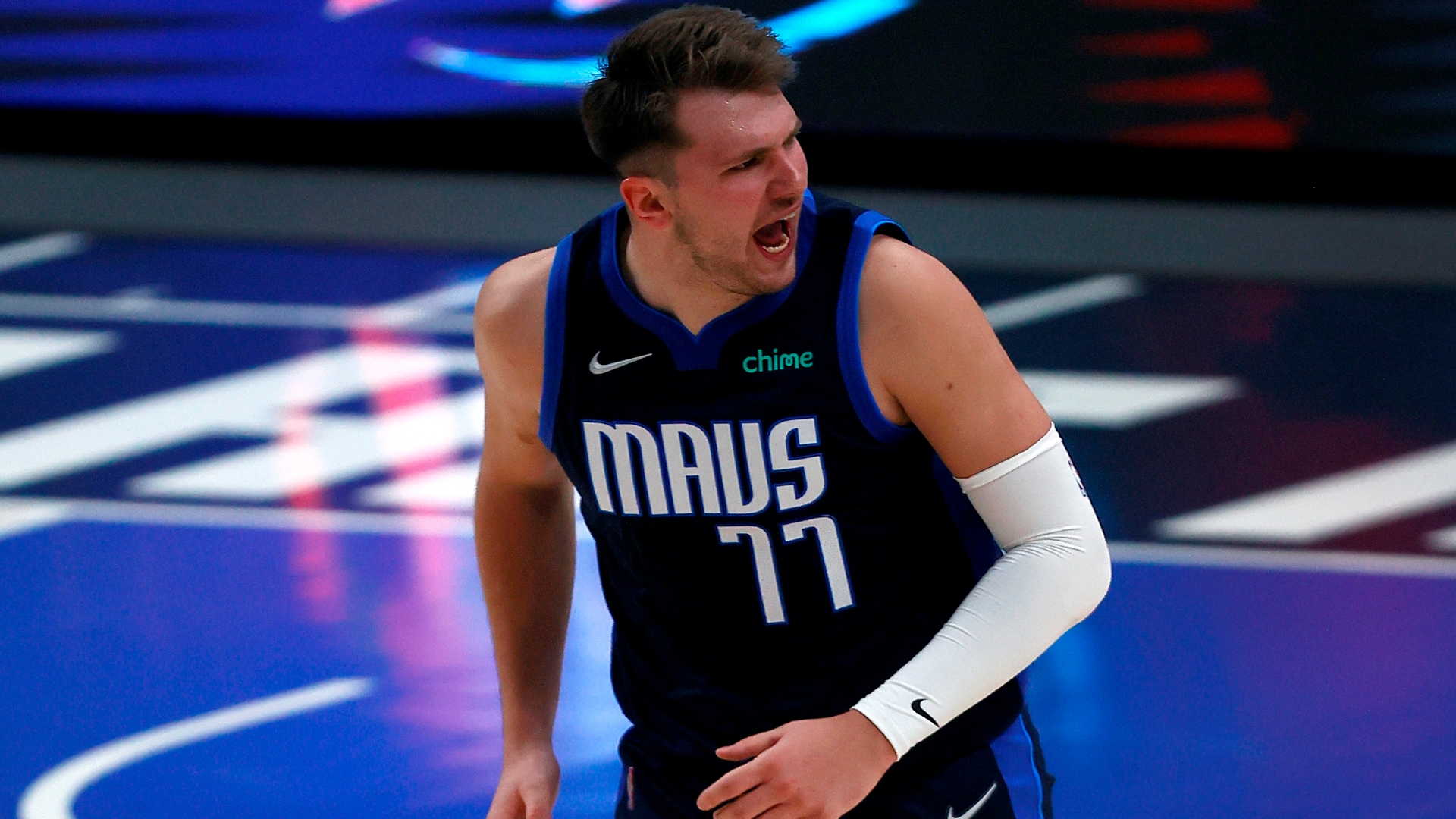 El choque de estrellas entre Luka Doncic y Stephen Curry fue para Dallas Mavericks por paliza. Los texanos ganaron el primer cuarto por 36-12 y desde ahí en adelante no bajaron el pie del acelerador en un partido en el que el esloveno finalizó con 39 puntos, 8 asistencias y 6 rebotes. Además otros cinco compañeros anotaron al menos 10 puntos en un encuentro en el que no estuvo Kristaps Porzingis ni tampoco Josh Richardson. Steph sumó 27 tantos para los Warriors con 5-9 en triples y Mychal Mulder estuvo fino desde afuera también con 6-11 en triples (26 puntos), pero el resto del equipo no contribuyó demasiado. Juan Toscano-Anderson terminó con 2 tantos, 4 asistencias y 4 rebotes.
🗣️ ANOTHA ONE https://t.co/hkv9v2B9YK pic.twitter.com/PzwxkYKkTF

- Golden State Warriors (@warriors) April 28, 2021
Too easy 🤷‍♂️ @AcmeBrick | #MFFL pic.twitter.com/FfU4yISuM2

- Dallas Mavericks (@dallasmavs) April 28, 2021
Las opiniones aquí expresadas no reflejan necesariamente aquellas de la NBA o sus organizaciones.