El NBA Combine es el escaparate ideal para que los prospectos que desembarcarán en la liga se muestren ante los diferentes ojeadores de las 30 franquicias que el próximo 20 de junio elegirán a 60 jugadores en la noche del Draft. Durante ese período que se celebrará entre el 15 y el 19 de mayo en Chicago, los jugadores se someterán a entrevistas con los diferentes equipos, realizan pruebas físicas, atléticas e incluso muestran sus virtudes en diferentes escenarios dentro de la cancha.
La lista de invitados ya confimados para el próximo evento es de 66 jugadores, entre los que se encuentran los posibles integrantes del top 3 del próximo Draft: Zion Williamson -unánime número uno en la previa-, RJ Barrett (ambos de la Universidad de Duke) y Ja Morant (Murray State) estarán presentes.
The NBA has released the official draft combine list: pic.twitter.com/wzA9groJ3O

- Jeremy Woo (@JeremyWoo) May 8, 2019
La principal ausencia es la de Rui Hachimura, un alero y ala-pivot japonés que disputó la última temporada en la Universidad de Gonzaga que se proyecta dentro del top 20 del próximo Draft. Hachimura declinó la invitación por motivos que aún no se dieron a conocer.
La lista de invitados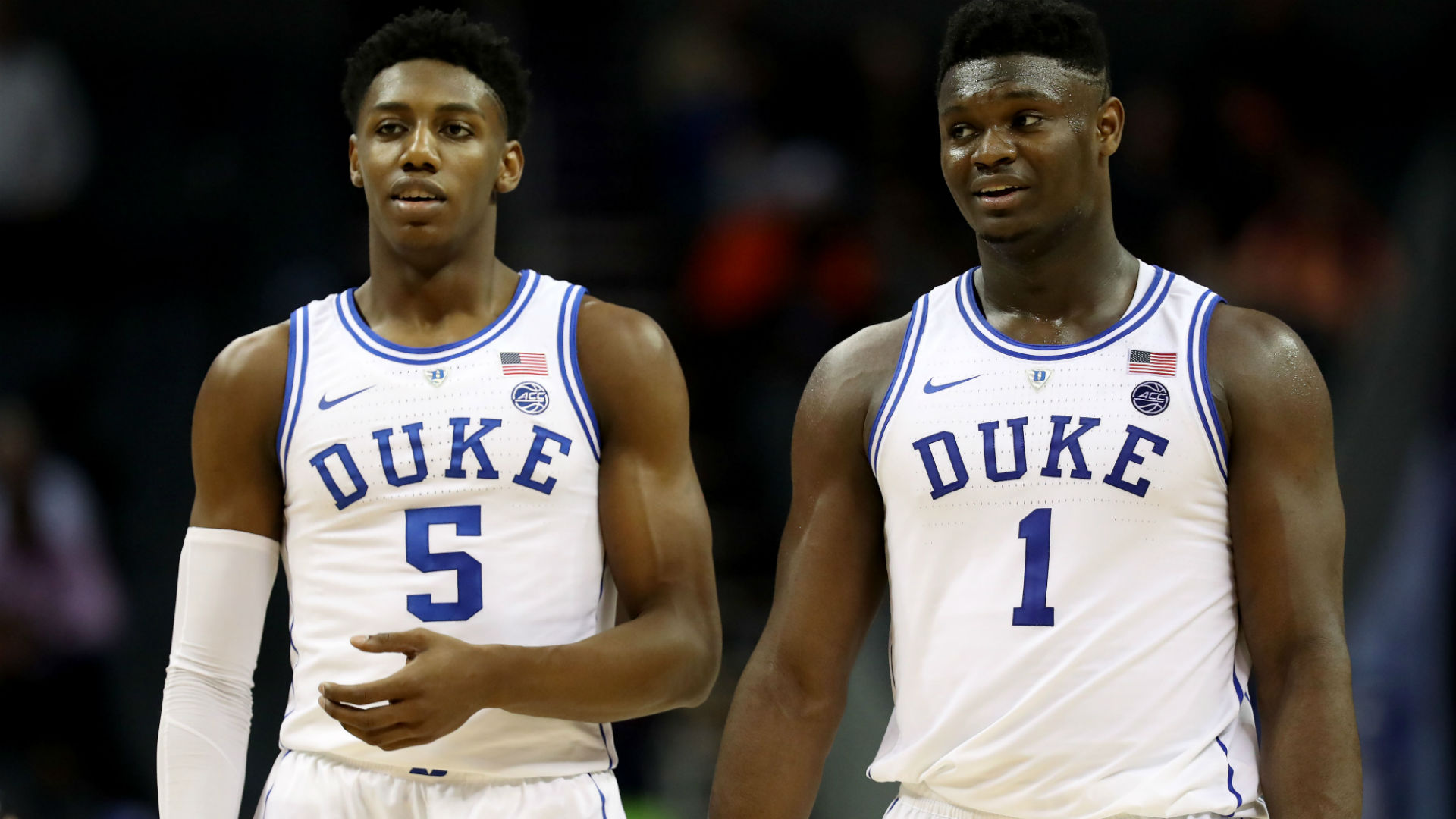 Alexander-Walker, Nickeil (Virginia Tech)
Barrett, RJ (Duke)
Bassey, Charles (Western Kentucky)
Bazley, Darius (Princeton HS (OH))
Bol, Bol (Oregon)
Bone, Jordan (Tennessee)
Bowen, Brian (Sydney Kings (Australia))
Bowman, Ky (Boston College)
Brazdeikis, Ignas (Michigan)
Brown, Moses (UCLA)
Clarke, Brandon (Gonzaga)
Claxton, Nicolas (Georgia)
Culver, Jarrett (Texas Tech)
Dort, Luguentz (Arizona State)
Dotson, Devon (Kansas)
Edwards, Carsen (Purdue)
Fernando, Bruno (Maryland)
Gafford, Daniel (Arkansas)
Garland, Darius (Vanderbilt)
Grimes, Quentin (Kansas)
Guy, Kyle (Virginia)
Hands, Jaylen (UCLA)
Hayes, Jaxson (Texas)
Herro, Tyler (Kentucky)
Hoard, Jaylen (Wake Forest)
Horton-Tucker, Talen (Iowa State)
Hunter, De'Andre (Virginia)
Jerome, Ty (Virginia)
Johnson, Cameron (North Carolina)
Johnson, Keldon (Kentucky)
Kabengele, Mfiondu (Florida State)
King, Louis (Oregon)
Langford, Romeo (Indiana)
Lawson, Dedric (Kansas)
Lecque, Jalen (Brewster Academy (NH))
Little, Nassir (North Carolina)
Matthews, Charles (Michigan)
McDaniels, Jalen (San Diego State)
Morant, Ja (Murray State)
Norvell Jr., Zach (Gonzaga)
Nowell, Jaylen (Washington)
Nwora, Jordan (Louisville)
Okeke, Chuma (Auburn)
Okpala, KZ (Stanford)
Oni, Miye (Yale)
Paschall, Eric (Villanova)
Ponds, Shamorie (St. John's)
Poole, Jordan (Michigan)
Porter Jr., Kevin (USC)
Porter, Jontay (Missouri)
Queta, Neemias (Utah State)
Reddish, Cam (Duke)
Reid, Naz (LSU)
Roby, Isaiah (Nebraska)
Samanic, Luka (Olimpija (Slovenia))
Schofield, Admiral (Tennessee)
Shittu, Simisola (Vanderbilt)
Tillie, Killian (Gonzaga)
Washington Jr., PJ (Kentucky)
Waters, Tremont (LSU)
Weatherspoon, Quinndary (Mississippi State)
White, Coby (North Carolina)
Wilkes, Kris (UCLA)
Williams, Grant (Tennessee)
Williamson, Zion (Duke)
Windler, Dylan (Belmont)